I turned my car onto the road heading north, which rolled out towards the deep, blue sky and seemingly, opened the world up to the infinite; Yellow grass fields swept away for miles, flowing west to the mountains. The clouds above piled into huge, folding, cumulus forms, the size of which I could never even have imagined. They glowed golden from within. I smiled with contentment and drove on. Looking for something certain, exploring for the afternoon, searching for a place to call home, I headed west and drove on.
Eighteen years ago, I moved to Colorado. I was a 22 year-old bride, wildly in love with my young husband, simply seeking out an amazing life. I married a 5th-generation Coloradan who had moved out-of-state as a child, and had wanted to come back ever since. I was a lake girl from Michigan, ready for a change of scenery and happily along for the adventure.
Looking for a balance between work in Denver and school in Boulder, we moved just outside of Boulder County. I loved the wide sweeping open spaces and the conveniences around our new home, but craved the "main street life" I knew growing up in the midwest. I wanted a great breakfast place, a local pub, a library, a coffee shop, a pizza place, a little church, all within 4 walkable city blocks. With a little quirky and historic thrown in too, please.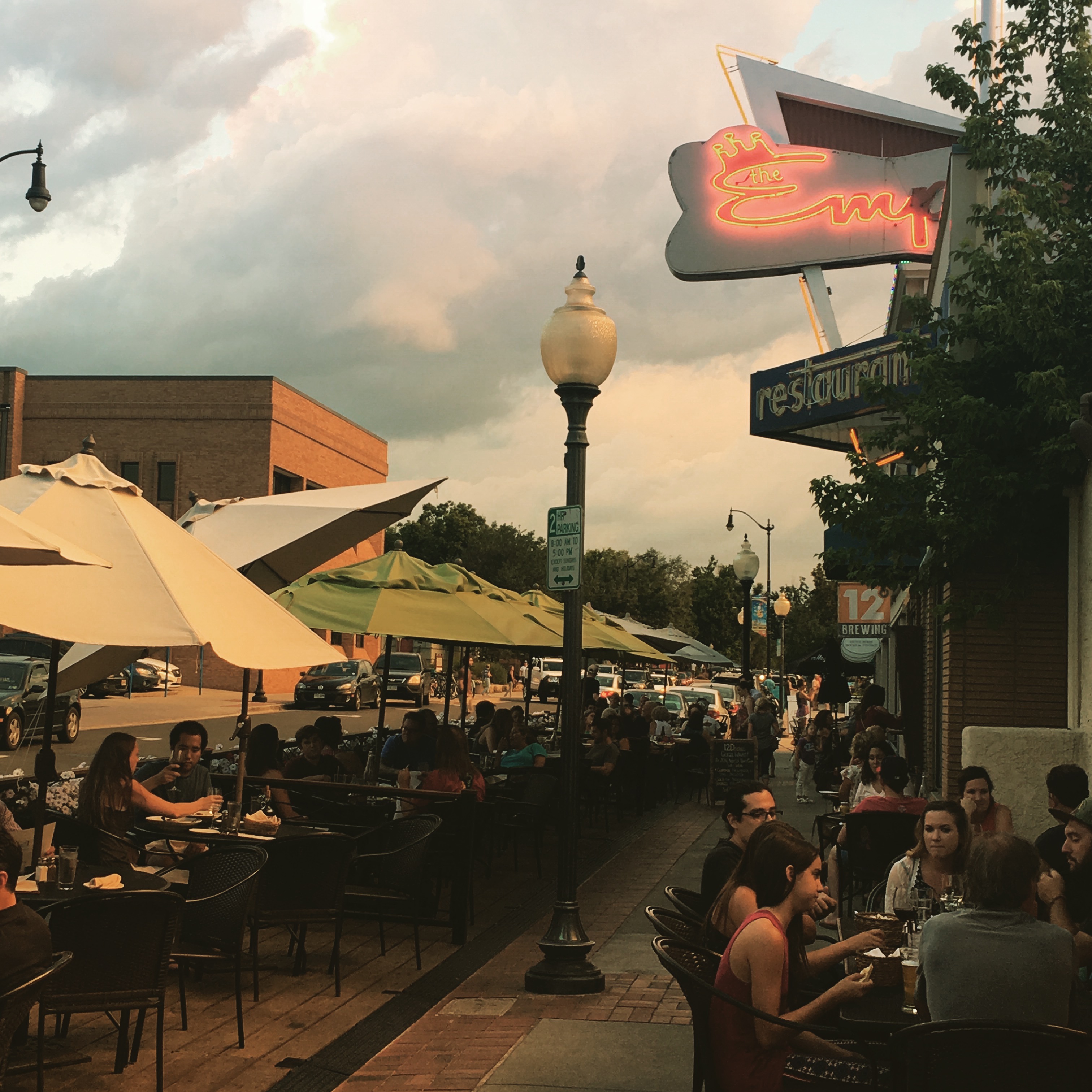 I suddenly took another left, intrigued by a road sign that simply said, "Louisville" and I found myself slowly bumping over the tracks into town. Just like that, I was in love with this small, gracious town. It's simple charm pulled me in from the start; large trees and old homes lovingly maintained lined the streets and sidewalks of the town. Evidence of lives well-lived were in abundance; a line of chatting folks outside of Karen's Country Kitchen*; kids bikes thrown causally on lawns littered with soccer balls and hula hoops; tidy, little parks were plenty.
I drove for a few minutes through the streets of downtown. I rolled past Druid's Arms* (Pub! Check!), Pasquini's* (Pizza! Check!), Hank's Train's* (Quirky! Check!) and proceeded to check all the other boxes off my invisible list. I drove home that day smiling, knowing I had found our new home. We found the perfect-for-us little rental in Dutch Creek, moved one more time within the neighborhood, and have stayed there for 15 years.
During that time of course, Louisville has changed quite a bit. But the same things that I embraced when moving here as a young mother, are the same things that have kept me here and I'm sure, is what continues to draw people here today.
We made a life here and immersed ourselves in the community because of the wonderful people and families we met, that immediately enriched and impacted our lives. The public and private schools our kids have been lucky enough to attend, are great because of the excellent teachers and staff. We frequent local restaurants because, well, we like the food, but mostly because we like the people that work there. We look forward to the annual city events because we get to see our friends and neighbors, all in one place, celebrating a life well-lived in Louisville.
My kids have actually thanked me for raising them here. How they know they have it so good, is still a bit of a mystery, but they do. So yeah, I'm pretty happy I took that drive all those years ago.
Now, I also have the honor of being a licensed real estate agent with Louisville Realty Associates. I specialize in our local area and also have years of experience helping buyers and sellers in markets all along the Front Range, from Boulder to Denver. I'm proud to say that as a Realtor, I help people achieve their dream of life well-lived.
*Karen's Country Kitchen is now The Huckleberry Cafe *A Druid's Arm is now currently home of The Waterloo.*Pasquini's was where The Empire is now. *Hanks Train's was where the Book Cellar and the Singing Cook now reside.
If you have been following Louisville Realty Associates on social media you will know that we provide regular updates on what we think home owners and home buyers may be like to know. We also provide snapshots of market data for East Boulder County. While it is easy to get lost in the multitude of statistics available for everyone to look at online, we always keep our data sweet and simple. Check out LRA's recent East Boulder Town market statistics here.
Like LRA's Blog? Please Share!