As the Colorado sun emerges from behind melting snow banks around our lovely town of Louisville, you may be thinking about selling your home this spring. Excellent! The good news for you is that this definitely a seller's market. It remains a good time to consider listing your home in the Boulder County/Denver Metro area for the foreseeable future. This seller's market has actually persisted for quite awhile now, and while steadily increasing prices don't favor buyers, the fact that interest rates remain at historic lows (for now anyway) bodes well for buyers to lock in affordable rates. The real problem, after buyers get passed their sticker shock, is the lack of selection of homes out there (or lack of inventory as we brokers say). Thus - the sellers market.
To illustrate an example of how our town of Louisville has seen an uptick in home prices, I have two charts below (provided by Altos Research). They each show market statistics for Single Family Homes for sale in Louisville, Colorado. The first chart reflects 90 days worth of data on home listings as reported in August 2015. The second chart shows the same data for February 2016. Just looking at the changes over this period of six months is striking. The average list price of a home has increased from $625,146 to $719,152, representing a 15% increase in 6 months! But interestingly the price per square foot has decreased by about $5.00, indicating you are getting more real estate for your dollars. That's good news for buyers.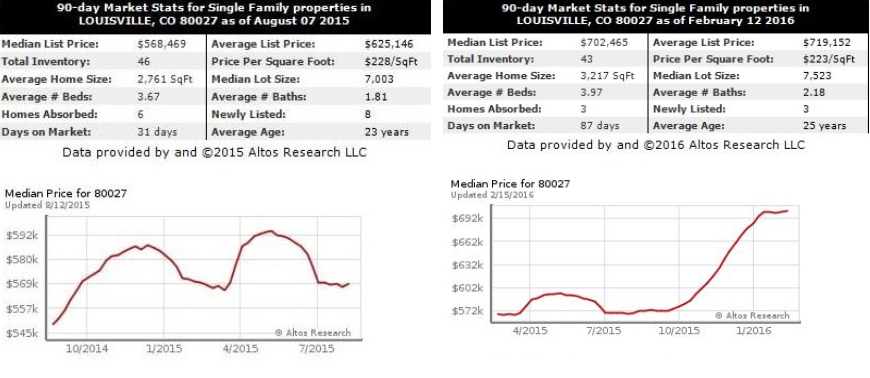 Being in a seller's market does not just mean fetching a good price on your listed home. It also has additional benefits, such as knowing your home won't sit on the market too long. (This also means you need to have something lined up to move into!) It may also mean that you, as a seller, will be in the enviable position of negotiating terms to have the buyers pay for various costs associated with closing. Or as another possible benefit, perhaps your buyer won't be too picky about the items found on an inspection report.
If you like data, there are plenty of other important statistics to check out in these charts and graphs, such as "Days on Market", "Total Inventory" and "Newly Listed Homes". We track all these market statistics for Single Family Homes (SFH) for most of neighboring towns on a monthly basis, including Erie, Lafayette and Superior. Check out the latest market report here.
At Louisville Realty Associates, we have the experience, energy and depth of knowledge to help you list your home for the best price. You can reach us anytime at info@louisvillerealtyassociates.com.
Like Our Blog? Please Share!