It's no secret: Louisville Realty Associates loves the Louisville Farmers Market! We love the vibrancy of the vendors at their booths, the melodic music playing at the Steinbaugh Pavillon and proximity to our office in Old Town Louisville. Every Saturday from May to October, market visitors can shop for fruits, veggies, pastries, coffee, meat, liquor and so much more. All farms are non-GMO and visitors will always find a lot of organic options as well. There are plenty of health and wellness products, as well as very cool Colorado folk art and you can even get a massage!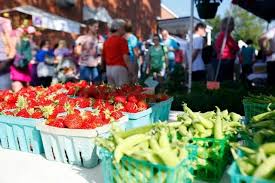 Louisville Farmer's Market seeks to support Colorado farms and businesses by providing Louisville and surrounding communities with a dynamic and inviting market that is beneficial to both its vendors and customers by emphasizing the importance of buying local products. Farmers at the market sell Colorado-grown organic, transitional and pesticide-free vegetables. Orchard keepers bring organic and conventional fruit from Palisades, Colorado. The quality and diversity of our vendors' produce and products promises you an exciting shopping experience in a friendly, family atmosphere. Shopping locally benefits our Colorado farms, the environment, the community and the economy.
Dates: Saturdays through October 22nd
Time: 9am - 1pm
Location: Front Street in Louisville
Dog Friendly! Weekly vendors list here!
While the summer is winding down, you still have time for another seven Saturday mornings (through October 22) to take in the energy and fresh produce and products on Front Street. But if that is not enough to convince you, download a coupon here and save $2 off anything at the market.
And don't forget the music! For a full schedule of the musicians that will be playing at the Farmers Market here. Interested in being a vendor? Farmers Market offers full and part time vending opportunities in the following categories. Click here for more information. Contact us anytime at info@louisvillerealtyassociates.com.
Like Our Blog? Please Share!