It is really no surprise to report that it continues to be a seller's market in Louisville, Colorado. We are all swimming in data and reports these days, but we would like to share a simple to read (and easy to digest!) 90 day Market Snapshot of Single Family Home from Chicago Title. The average listing is $625,146 and at $228/SqFt with only 8 new listings this week and with homes only on the market for a month, again, it is safe to say, we are still, definitely, in a seller's market.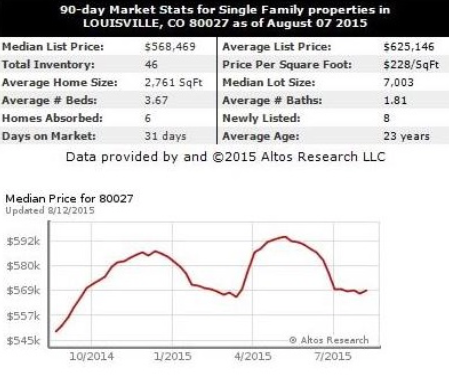 Chicago Title of Colorado is one of our partners and they share their weekly reports from Altos with us, which in turn, allows us to provide you with localized market trend reports. Check out the table and graph here to see highlighted stats for the week of August 7, 2015 within Louisville, Colorado. Find out what your home may be worth here.
If you have been following LRA on Facebook, you already know how much interesting real estate information we provide on a daily basis. If you are new to LRA and you would like to see housing data for Boulder County, there are plenty of statistics to check out in such as "Days on Market", "Total Inventory" and "Newly Listed Homes". We track all these market statistics for Single Family Homes (SFH) for most of neighboring towns on a monthly basis, including Louisville, Erie, Lafayette and Superior. Check out Spring 2017 market summary here. At Louisville Realty Associates, we have the experience, energy and depth of knowledge to help you list your home for the best price. You can reach us anytime at info@louisvillerealtyassociates.com.
Like Our Blog? Please Share!