As we head happily into the the spring season, we are reminded with a not too subtle hint yesterday that Colorado can still bring winter conditions into spring. Naturally, I am referencing the 8" of snow arriving on Saint Patrick's Day. Alas, the snow will melt and most interested home buyers start to come out around this time of year to see what the market holds for them. If you have been listening to the rumor mill in your neighborhoods, you may not be too shocked to learn there is not a lot of inventory on the market right now. While low inventory is not a big surprise in the winter months, this is a trend we have seen for almost two years now, which most experts are predicting may continue into the spring and summer.
According to the Denver Business Journal, inventory for homes fell again in February, with 3,963 active listings on the market, compared with 4,079 a year ago, representing a fall of of 2.8%. My message to prospective home buyers? Do your homework and prepare to compete.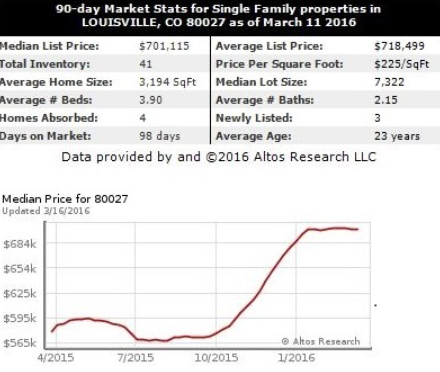 But, less subtle than the snow last night, there may be signs of slow down coming. According to the latest data from the Denver Metro Association of Realtors, one change we are seeing is that after months of double digit home price appreciation in the Denver metro area, the average home price grew only 9 percent year-over-year for February. "The average price of a home, including both detached houses and attached homes like condominiums and town homes, grew to $377,917 last month, compared with $346,572 a year ago. In the lower price ranges, inventory remained especially low, with just 107 active listings on the market between $200,000 and $299,999," writes Molly Armbrister Reporter for the Denver Business Journal.
This snapshot for Louisville, Colorado from mid-March 2016 shows inventory staying about the same since December with forty-one (41) single family homes. The average listing price continues to drop slightly to $718,499 from $723,960 in January 2016. However, the measure of "Price per Sq. Foot" inched up to $225/SqFt with the average home size measuring at 3,194 SqFt. "Days on Market" (DOM) increased by almost a month since January and sits at ninety-eight (98), not unusual during our winter season. Check out all current Louisville here and all our East Boulder County listings here.
Whether you are a seasoned home buyer or this is your first time purchasing, it is important to work with an agent who understands our market and how to submit a competitive bid. This will save you time and money. You can reach us anytime at info@louisvilleassociates.com or at 303-955-1359.
Like Our Blog? Please Share!