Considering Purchasing A Home Within the Boulder Valley School District?
Boulder Valley is home to several award winning, schools with excellent reputations, as well as a selection of wonderful private schools. If you are interested in your options for public schools you can locate which BVSD schools are close to your desired neighborhood here.
Information and deadlines about Open Enrollment in the Boulder Valley School District RE-2 for the current school year can be found here.
Below is a graphic that depicts the current Boulder Valley Schools Feeder System for its 30,000 students in the district. The information on this website should always be cross referenced and confirmed with the information published on the BVSD website.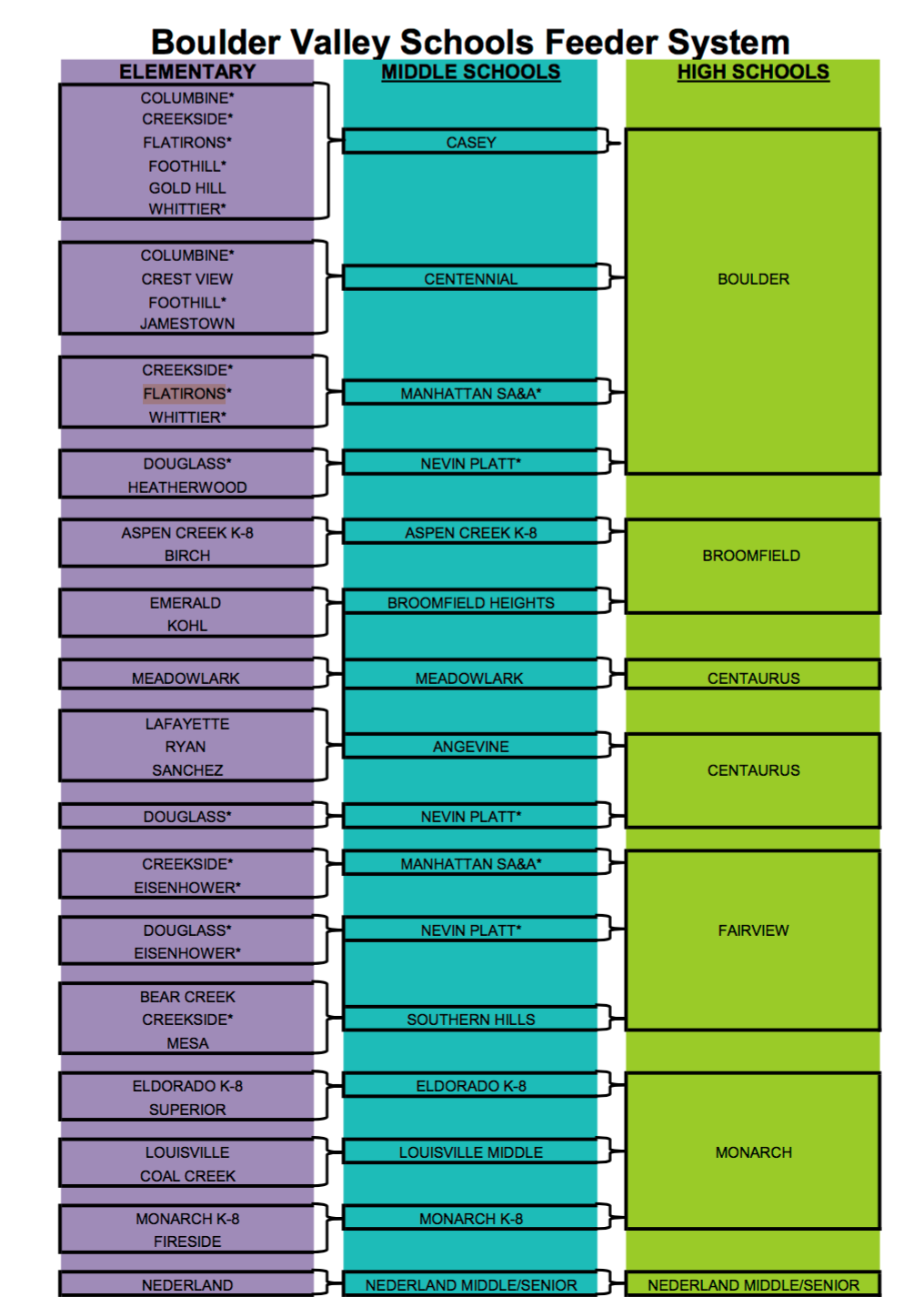 *These schools feed into more than one school at the next level. Please verify your address through School Finder to ensure which is your actual neighborhood school at each level.
Except at multi-level schools such as K-8, or K-12 schools, students need to apply to each level (elementary, middle, high school) for Open Enrollment. A student who has open enrolled to an elementary school, for example, will be registered at his/her neighborhood school of attendance for middle school unless he/she applies for Open Enrollment at another middle school and is accepted through the Open Enrollment process to the school of choice. Students do not receive preference or assurance in applying for Open Enrollment to the next school in feeder system, e.g., Louisville Elementary to Louisville Middle School.
The following schools are charter or focus schools and do not have neighborhood attendance areas: Arapahoe, BCSIS, Boulder Explore, Boulder Prep, Boulder Universal, Community Montessori, Halcyon, High Peaks, Horizons K-8, Justice High, New Vista, Peak to Peak, Pioneer, Choice Program at Platt, Summit, Boulder Tec, University Hill, all Pre-school programs (regardless of site location).