In this week's blog, I wanted to share with you the latest market report from Erie, Colorado for a few reasons. First, while some may perceive Erie to be located "off the beaten path", it really is not. It is only a handful of straight driving (or cycling) miles from Louisville and Boulder. Secondly, the Boulder Valley School District is building out a new K-8 public school to serve this up and coming area, and is due to open in the Fall of 2016. Finally, as you can see from the graphic below (click "Read Full Post"), buyers in Erie get a lot of house for their buck. This market snapshot for Erie, Colorado shows 174 single family properties on market with an average list price of around $510,000. But here is the final kicker for me: the average home size is over 3,600 square feet with 3 & 3/4 bedrooms. That is $132 per square foot (compared to Louisville at $227 this week). Check out this past week's market report for Erie, Colorado. Our friends at or Chicago Title of Colorado provide these for us to share with you.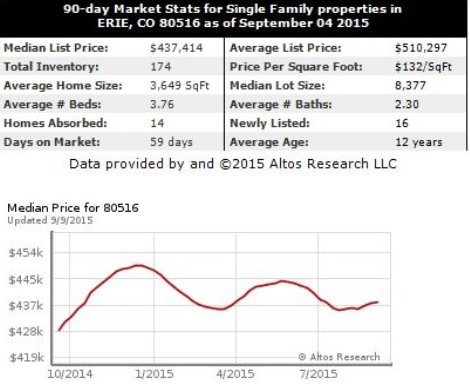 So we encourage you to think about Erie. There is a reason why nearly 20,000 people call Erie home - they love to live here. See listings for Erie, Colorado here.
If you have been following LRA on Facebook, you already know how much interesting real estate information we provide on a daily basis. If you are new to LRA and you would like to see housing data for Boulder County, there are plenty of statistics to check out in such as "Days on Market", "Total Inventory" and "Newly Listed Homes". We track all these market statistics for Single Family Homes (SFH) for most of neighboring towns on a monthly basis, including Louisville, Erie, Lafayette and Superior. Check out Spring 2017 market summary here. At Louisville Realty Associates, we have the experience, energy and depth of knowledge to help you list your home for the best price. You can reach us anytime at info@louisvillerealtyassociates.com.
Like Our Blog? Please Share!