We are so happy (somewhat surprised and very humbled) to announce Louisville Realty Associates was awarded 2017 "Small Business of the Year" by the Louisville Chamber of Commerce!
Thank you to the Chamber for putting on a lovely Mardi Gras themed dinner on January 24, 2018 to help us honor all the award winners. Congratulations to all the award winners!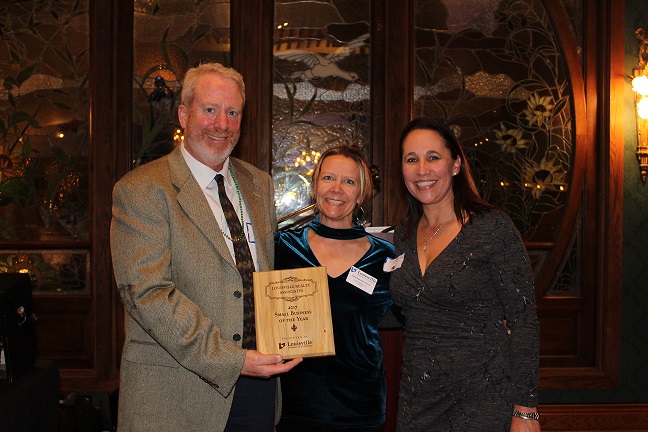 photo credit: Amy O'Neill, Louisville Chamber of Commerce
We were thrilled, flattered and beyond honored to receive this amazing award from the Louisville Chamber of Commerce and presented to us by board member Helley Duncan. She was gracious to mention some of our 2017 events and charitable activities, which were factored into the award decision:
Hosted City's Economic Development Director, "Louisville's Small Town Economy"
1st Annual Girl Scout Cookie Valentine Giveaway (and we plan do it again!)
Sponsored the fabulous and community favorite Louisville Farmer's Market
Hosted Seminar with Premiere Members Credit Union "Streamlining The Home Buyers Experience"
Hosted First Fridays Art Walk Featuring the amazing art of students at Louisville Middle School (LMS)
Title Sponsor for 2nd Annual Louisville Open at Coal Creek Golf Course
Sponsored A Precious Child Fill-A-Backpack Drive
Hosted Adopt-A-Pet Day For Humane Society
Hosted Louisville Chamber Of Commerce "Biz After Hours" Fiesta Happy Hour
Sponsored Collection Bin for Pink Village's "Pillow Fight Against Breast Cancer"
Donor For Superior Chamber Of Commerce Annual Dinner Fundraiser
Sponsored Louisville Home Tour to benefit Louisville Elementary School (LES)
Sponsored A Precious Child Holiday Gift Drive
Sponsored Petting Zoo at Louisville Chamber Of Commerce Parade Of Lights
Hosted LRA's 3rd Annual Hot Cocoa Night Serving over 250 Cups During The Parade Of Lights.
We continued our support for Monarch High School's clubs and activities including Music/Theater, Touchdown Club, Boosters Club, Girls Golf & Girls Volleyball and the AfterProm Party. LRA is a proud member and supporter of the Louisville Arts District, the Downtown Business Association and the Louisville History Foundation. We made appearances at the Taste of Louisville held in June, as well as several of the DBA's Friday Night Street Faires.
In 2018 and beyond, we will continue to offer top shelf, personalized expert service to our clients, helping folks to purchase and sell residential and investment properties in the Boulder and Denver metro area. As we grow, one thing will remain the same at Louisville Realty Associates: our commitment to our community in and around Louisville, as well as our continued involvement and enthusiasm to be a part of the small business community. We wish you a happy New Year and can't wait to see all the good things that 2018 will bring us all!
We love the Louisville community and look forward to being good neighbors and serving our clients' every need! View all the event photos here.
Follow us on social media or via our Main Street Blog here!