Dear Buyers, I'm sorry to say it again, but this is still a Seller's market in Boulder County. It continues to be a simple case of too little supply and too great of demand as our market still experiences historically low inventory. If you are left brain inclined and interested in the statistics for our greater Boulder Colorado area, check out this table that listing the sales inventory month by month here, courtesy of ColoProperties (Multiple Listing Service or MLS). If you would like to hear a story about some buyers in 2016 and where they are today, please read on.
You may remember hearing about folks, whom you may have thought paid too much for their homes last year? They actually gained anywhere from 10% to 15% in equity on their Boulder County home purchases as soon as they went under contract in 2016. To use a real life example, LRA clients, who purchased their home in Lafayette, a 4 bedroom, 1,800 square foot home, for $313,000 in October 2016 (yes, those homes existed last year), are now living in a home worth approximately $332,000. What is even better news for our clients in this case is since they borrowed with an FHA loan, which requires mortgage insurance, they are well on their way to paying down their loan to value ratio, enabling them to remove their mortgage insurance sooner rather than later. This will save them about $250 to $300 per month.
Now back to more statistics. In this week's blog, LRA has East Boulder County towns market area reports breaking down the inventory, average listing prices and other market data for the past 90 days ending March 23, 2017. We will start with our home base of Louisville, with a median list price up to $689,000, well over the December's medium price of $650,080. We also see that sales inventory in March has decreased to just 33 single family homes, down from 53 in December, which marks a signal that we will continue to see low inventory like we did last time this year. The measurement of "Price per Square Foot" is inching downward and is now at $237/SqFt (the statewide average is about $199/SqFt). This may explain the reason that the average home size for sale has also decreased, now down to total 2,725 SqFt. We also see "Days on Market" (DOM) has decreased quite a bit and is now at at 48 days (it was at 67 days in December), which includes time to close, possibly indicating that buyers are purchasing with cash enabling a quicker close. The chart below represents Louisville's market profile for 90 days ending March 23, 2017.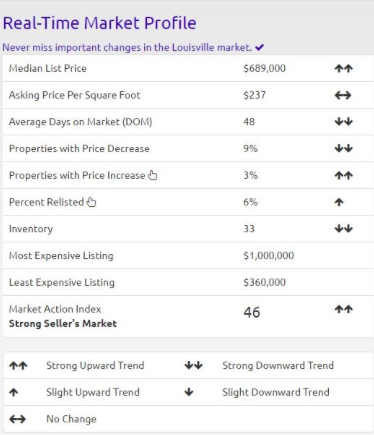 For any potential sellers reading this, being in a Seller's market does not just mean fetching a good price on your listed home. It also has additional benefits, such as knowing your home won't sit on the market too long. However, this also means you need to have something lined up to move into! It may also mean that you, as a Seller, will be in the enviable position of negotiating terms to have the Buyers pay for various costs associated with closing. As another benefit, perhaps your Buyer won't be too picky about the items found on an inspection report. To get a sense of comparable prices on the market for your, check out all current Louisville listings here. Search all homes for sale in the Boulder area on the local MLS here.
If you would like to see more housing data, there are plenty of other statistics to check out in these charts and graphs, such as "Days on Market", "Total Inventory" and "Newly Listed Homes". We track all these market statistics for Single Family Homes (SFH) for most of neighboring towns on a monthly basis, including Erie, Lafayette and Superior. Check out Spring 2017 market summary here.
At Louisville Realty Associates, we have the experience, energy and depth of knowledge to help you list your home for the best price. You can reach us anytime at info@louisvillerealtyassociates.com.
Like Our Blog? Please Share!