In this week's blog, I feel compelled to report that while this is still a seller's market, that may be changing. A little bit. We are seeing more inventory, or better stated, more new listings coming to the market. According to John Rebchock of Denver Real Estate Watch, active listings jumped 24.4% from May 2016 and although home prices continue to set records, this may be leveling off. Most analysts still believe that it is still a hot market, meaning there is more demand than supply, but we would like to share some metrics that are giving us pause and ask if perhaps supply in Boulder County is finally catching up with demand?
To start, the graphic report below shows the 90 Day Market Statistics for Louisville, Colorado with inventory at fifty-three (53) single family homes up over the past few months. The average listing price continues to drop slightly since the beginning of the year at $693,133 but the measure of "Price per Square Foot" is inching up to 226/SqFt with the average home size measuring at 3,172 SqFt. "Days on Market" (DOM) decreased by about twenty days since January and sits at seventy-two (72), which includes time to close. To view all the current Louisville listings click here. To view recent East Boulder County market statistics visit here.
90-Day Market Statistics for Single Family Homes: Louisville, Colorado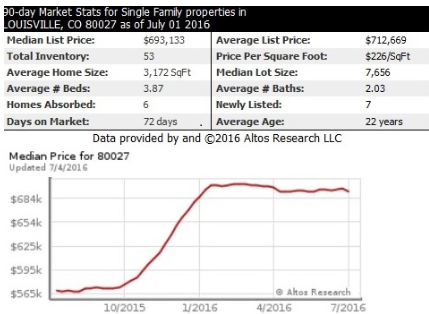 Selling in a seller's market does not just mean fetching a good price on your listed home. It also has additional benefits, such as - if priced correctly - knowing your home won't sit on the market too long. But don't forget this also means you need to have something lined up to move into! It may also mean that you, as a seller, will be in the enviable position of negotiating terms to have the buyers pay for various costs associated with closing. As another possible benefit, perhaps your buyer won't be too picky about the items found on an inspection report.
If you like data, there are plenty of other important statistics we track for Single Family Homes (SFH) for Louisville's neighboring towns on a regular basis, including Erie, Lafayette and Superior. Check out July's market summary here.
At Louisville Realty Associates, we have the experience, energy and depth of knowledge to help you list your home for the best price. You can reach us anytime at info@louisvillerealtyassociates.com.
Like our Blog? Please Share!