This week, landlords in Denver were met with some pretty good news.
According to quarterly research conducted by Seattle-based All Property Management, Denver is the 4th-best city in the entire U.S. for owning rental property. That is 4th out of A LOT of U.S. cities. The group, which just released its second-quarter "Rental Ranking Report" tracking rental housing real estate investment in 75 U.S. markets, stated that with Denver's rapidly increasing property values (11.6%), low vacancy rates (4.3%) and good long-term job prospects (2.94%), our home to the Broncos is sitting comfortably in the top tier as a property investor's haven.
"Denver is once again one of the best housing markets in the country to own rental properties in, leaving us puzzled as to why it doesn't receive more national recognition as a real estate powerhouse," All Property Management stated in the report. The top five markets in the country were all located in the West, according to the report, which ranked Seattle at No. 1, San Francisco at No. 2, San Jose at No. 3 and Portland at No. 5. I can't say I am too surprised.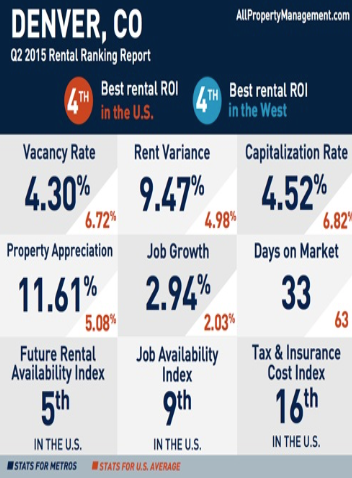 As the owner of a few investment properties myself, I have to admit I was happy to hear this news. It was validation for what I already knew from first hand experience in the Denver metro market. But, it also did give me pause to reflect on one critical element of my purchasing decisions: timing. I own a fair number of rental properties and have purchased 100% of them between the months of November and March, over a span of the past 10 years or so. What's my point? The time of year when an investor purchases property, can have a significant impact on the price negotiated at the end of a transaction. Timing impacts how many buyers are in the market. Timing impacts how eager sellers may be. The longer a property sits on the market, the bigger the seller's motivations probably will grow.
So if you have thought about investment properties and the idea of being a landlord, just remember, the winter months can be your friend. And Denver winters are phenomenal. Read full report by All Property Management here.
If you would like to see housing data for Boulder County, there are plenty of statistics to check out in such as "Days on Market", "Total Inventory" and "Newly Listed Homes". We track all these market statistics for Single Family Homes (SFH) for most of neighboring towns on a monthly basis, including Louisville, Erie, Lafayette and Superior. Check out latest market statistics here.
Like Our Blog? Please Share!