What if we told you there is a way that your home can be heated and cooled for a fraction of the cost it is currently costing you? This technology is not new and has been in use for many years. We are able to steal heat from deep in the ground and pump it into your house to keep you warm in the winter. Then pumping the heat out of your house in the summer. This technology is called a geothermal heat pump. Heat pumps are nothing new and lots of people in moderate climates have heat pumps.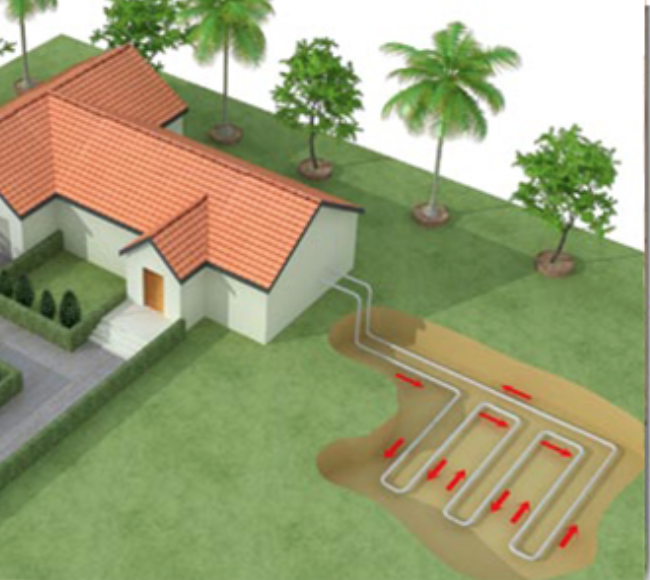 Temperature Gradient: Temperature gradient is a preliminary concept that one needs to understand before the benefits of a geothermal heat pump can be fully appreciated. It's all about heat flow. There are two parts to this concept:
Direction of Heat Flow: It should be no surprise to you that heat will move from hot to cold all by itself. It does not need any encouragement (energy). If it is hotter outside than it is inside, heat will move from outside to in and heat the home until the temperature inside is the same as out. The natural direction of heat flow is hot to cold. If heat is flowing in the direction it wants to go, you will have a positive temperature gradient.
Temperature Difference: Heat will move very quickly if it is very hot outside and very cold inside, there is a big difference in temperature and we have a big temperature gradient.
What's A Heat Pump? A heat pump is a mechanical device that moves heat against the temperature gradient. A heat pump can be used to cool a house like an air conditioner and it can also be used to heat the house by moving heat from outside to inside. They don't work as well in cold climates because as the temperature outside drops, so does the efficiency of the heat pump. In cold climates it may be too inefficient to heat your home with a heat pump.
Pipes are buried in the ground or in a well or lake, horizontally or vertically. A circulating liquid moves heat in and out of the ground through the pipes and the heat is pumped in or out of the house as required. Heating and cooling by pumping heat through a temperature gradient is much cheaper than heating and cooling with electricity and or fossil fuels.
To learn more about possible cost savings to your energy bill each month using geothermal heat, check out this online calculator here.
Based in Longmont, Colorado, Kenneth Peter is the Regional Director of Pillar to Post. His Home Inspection Team has performed over 10,000 inspections over the last 18 years in business. His team of certified inspectors all have extensive home-related and construction experience and are dedicated to their customers in helping them make an educated home purchase. Ken also serves as the Area Developer and Regional Director for Colorado, coaching and assisting the other 30 Colorado Pillar to Post franchisees in the state. You can reach Ken Peter at 303–772-1997 or email him at Kenneth.Peter@pillartopost.com.
Like Our Blog? Please Share!