2016 was another good year for home owners! According to Zillow, home values in Colorado have increased 10.3% over the past year and it appears that 2017 will bring some more of the same with home values expected to increase by over 4%, particularly in Boulder County. Real estate expert and author, Gord Collins, provides us with a short list of positive factors that will affect the housing market 2017 and beyond including the following:
Moderately rising mortgage rates
Low risk of a housing crash for most cities
Millennials buyers coming into their main home buying years
A trend to government deregulation
Labor shortages pushing up costs of production
Donald Trump and his "drain the swamp" crew
The US economy will keep going – longest business cycle in history
Every week real estate professionals at LRA review the market inventory and pay attention to trends in prices and days on market, for example. Each quarter, LRA publishes a summary of what we have been seeing in an easy to read report offering a brief commentary of the most tracked statistics for single family homes in Louisville, Superior, Lafayette and Erie.
Let's take a look at Louisville to illustrate the trend in real estate as we moved out of the high season and into the winter months. As expected, after Labor Day, we see a decrease in listings Louisville with just fifty-three homes on the market as of mid-December. While, the average listing price also continues a slight drop since the beginning of the year and is now at $660,730, the "Price per Square Foot" continues to inch up now at $243/SqFt (the statewide average is $199/SqFt!). This explains the reason that the average home size for sale has also decreased, now down to total 2,725 SqFt. We also see "Days on Market" (DOM) has increased a little since January and sits at sixty-seven (67), which includes time to close.
90-Day Market Statistics for Single Family Homes: Louisville, Colorado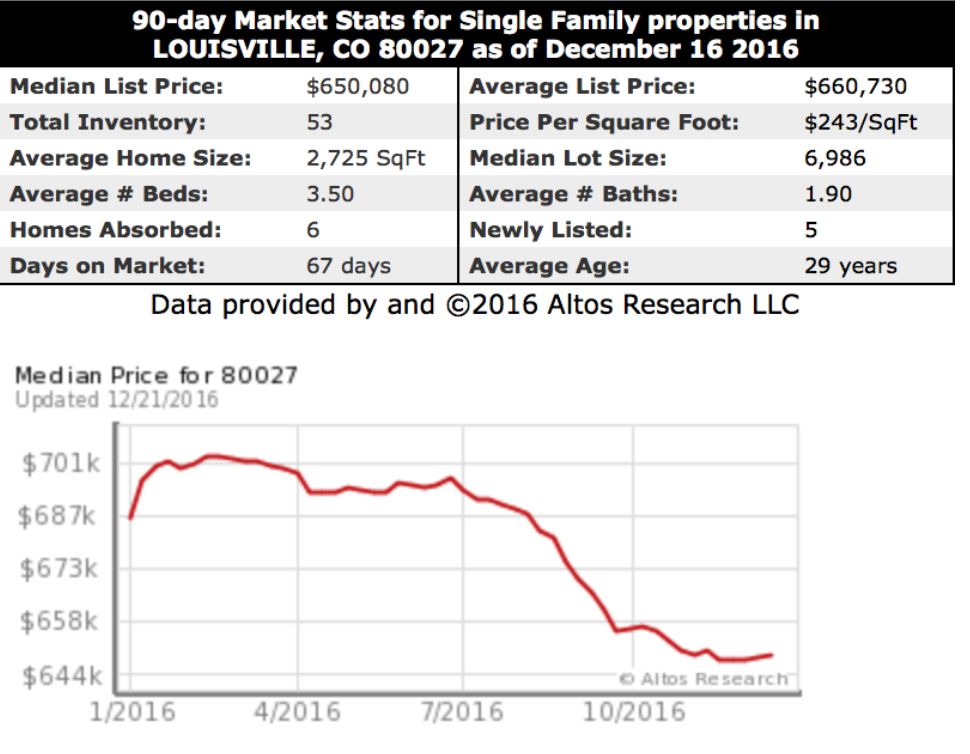 If you have been following Louisville Realty Associates on social media you will know that we provide regular updates on what we think home owners and home buyers may be like to know. We also provide snapshots of market data for East Boulder County. While it is easy to get lost in the multitude of statistics available for everyone to look at online, we always keep our data sweet and simple. Check out East Boulder Town market statistics here. At Louisville Realty Associates, our wonderful agents have the experience, energy and depth of knowledge to help you list your home for the best price. You can reach me anytime at cory@louisvillerealtyassociates.com.