At the risk of sounding like a broken record, I have to say it again. Sorry buyers, this is still a seller's market. Why? It is simply an old fashioned case of supply and demand as we continue to face low inventory. But what is truly surprising to me is that these low levels have not ticked up now that the calendar is turning the pages to spring. Typically this is the season to sell, but Coloradans are apparently not going anywhere. Can we blame them, really?
This week we have several reports that break down the inventory, average listing prices and other interesting market data for the past 90 days ending April 29, 2016. Starting with our home town of Louisville, this report shows inventory staying about the same since December (low!) at forty-five (45) single family homes. However, while the average listing price continues to drop slightly from in January and is now at $713,787 and the measure of "Price per Square Foot" is also decreasing and is now at $219/SqFt with the average home size measuring at 3,250 SqFt. "Days on Market" (DOM) increased by almost a month since January and sits at ninety-six (96), which includes time to close. Check out all current Louisville listings here.
90-Day Market Statistics for Single Family Homes: Louisville, Colorado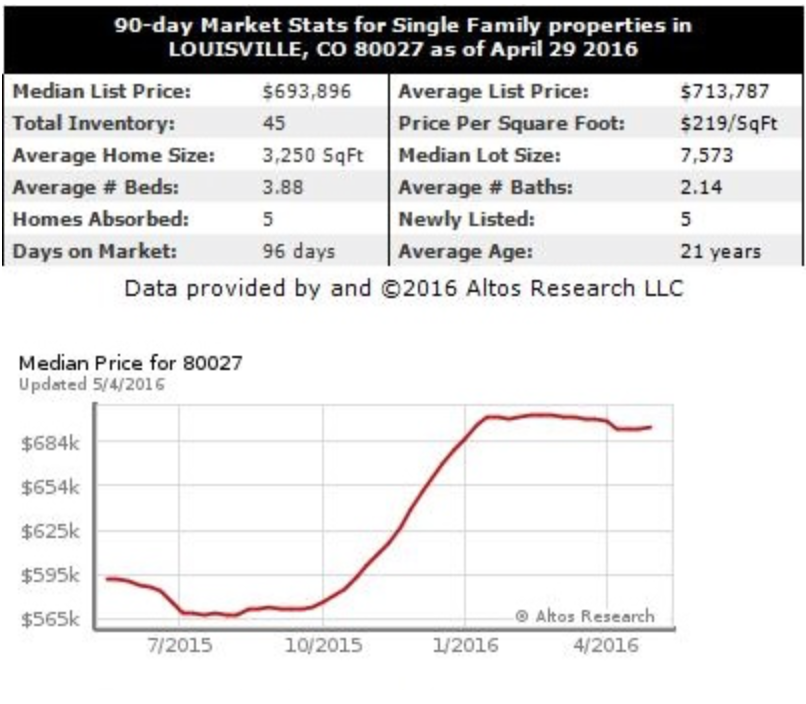 Being in a seller's market does not just mean fetching a good price on your listed home. It also has additional benefits, such as knowing your home won't sit on the market too long. (This also means you need to have something lined up to move into!) It may also mean that you, as a seller, will be in the enviable position of negotiating terms to have the buyers pay for various costs associated with closing. Or as another possible benefit, perhaps your buyer won't be too picky about the items found on an inspection report.
If you like data, there are plenty of other important statistics to check out in these charts and graphs, such as "Days on Market", "Total Inventory" and "Newly Listed Homes". We track all these market statistics for Single Family Homes (SFH) for most of neighboring towns on a monthly basis, including Erie, Lafayette and Superior. Check out April's market summary here.
At Louisville Realty Associates, we have the experience, energy and depth of knowledge to help you list your home for the best price. You can reach us anytime at info@louisvillerealtyassociates.com.