After months upon months of repeating myself that we are still in a seller's market in Boulder County, the tide may be turning. But don't expect prices to come crashing down, as this market continues to experience fairly high demand coupled with low inventory. However, we are seeing some prices are nudging downward a bit.
In this week's blog, LRA has market reports for the four East Boulder County towns of Louisville, Superior, Lafayette and Erie, highlighting current inventory, average list prices and other market data for the past 90 days ending August 9, 2017. View the full details of this report highlighting key metrics here, courtesy of ColoProperties (Boulder Area Multiple Listing Service or MLS). We are also tracking the Market Action Index (MAI), which answers the question "How's the Market?" by measuring the current rate of sale versus the amount of the inventory. An index score above a 30 implies seller's market conditions, while a score below 30 implies conditions favoring the buyer. The market has appeared to do some cooling and prices are showing signs of plateauing, but the MAI score is consistently around 40 indicating we are still in the seller's zone.
If you are studying the market, be sure to watch for changes in the MAI. If the MAI resumes it's climb, prices will likely follow suit. If the MAI drops consistently or falls into the Buyer's zone, watch for downward pressure on prices.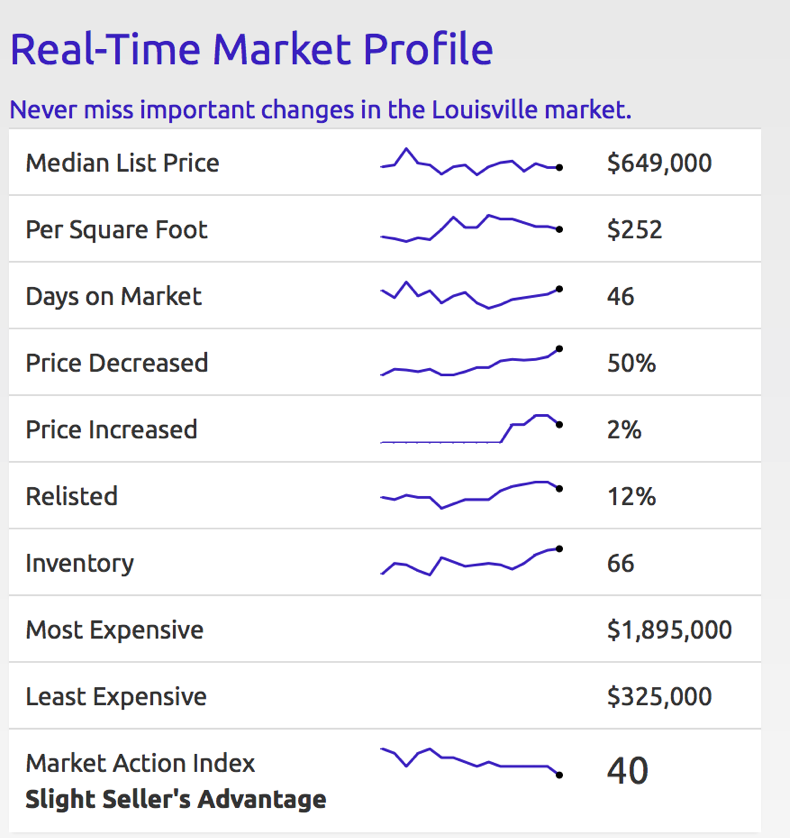 As the table here shows, the median list price for Louisville over the past 90 days (from the date of this blog on August 11, 2017) is $649,000, down from $689,000 in early spring. The MAI is at 40, which is less than last month's MAI of 41. Inventory has held steady at or around 66. But most striking is that the percentage of listings that have reduced their price over the past 90 days is 50%! In March this number was only 9%, so there is a rather larger indicator of the market moving towards the buyer's favor.
View the MAI and other key metrics for Superior, Lafayette, and Erie towns here. To get a sense of comparable prices on the market for your, check out all current Louisville listings here. Search all homes for sale in the Boulder area on the local MLS here.
If you have been following LRA on social media, you know we always do our best to put our clients first and ensure our home buyers and sellers understand all their options. At Louisville Realty Associates, we have the experience, energy and depth of knowledge to help you list your home for the best price. You can reach us anytime at info@louisvillerealtyassociates.com.