By all general appearances, 2017 seems to be shaping up as another good year for those who sold homes, however, it may be brightening for buyers as well. According to the Colorado Association of REALTORS® (CAR), "Colorado's low inventory has caused frustration and a limitation on housing market growth. Luckily, statistics show a major increase for residential building in areas across Colorado."
Let's take a look at recent statistics for some of the East Boulder County towns we follow and see what has been happening since the selling season has slowed down. We typically see a slow down in inventory available and buyers who are serious after Labor Day. Now that we have almost a full year of data under our belt, we should be able to drill down and look at how the residential real estate market has been performing in our specific towns.
Louisville remains a seller's market, but we still see a cooling off effect in place since the end of the summer. The median list price decreased from $655,000 in October to $625,000 in mid-December. As expected in the winter, Louisville's inventory has decreased from 44 single family homes in October to just 23 in December. "Days on Market" (DOM) has increased from 67 days in October to a 86 days in December, which includes time to close. A buyer friendly trend that has remained in place since late summer is that 48% of sellers are offering price reductions in December, up significantly up from March's 9%. Check out all current Louisville listings here. The table below reflects a 7 day rolling average as of December 17, 2017.
7-Day Market Statistics for Single Family Homes: Louisville, Colorado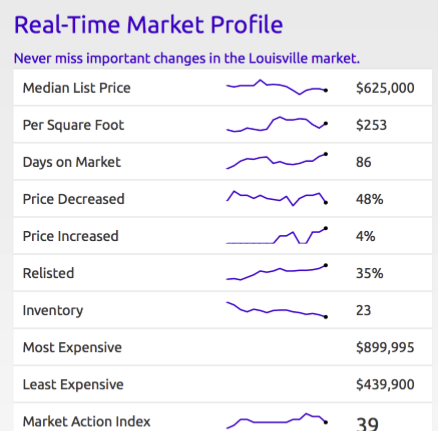 Every week real estate professionals at Louisville Realty Associates review the market inventory and pay attention to trends in prices, days on market, etc. Each quarter, LRA publishes a summary of what we have been observing and reiterate what we believe may be important for home buyers and sellers to understand in an easy to read format offering a brief commentary of the most tracked statistics for single family homes in our area. You can email me for a report at cory@louisvillerealtyassociates.com.
While it is easy to get lost in the multitude of statistics available for everyone to look at online, we always keep our data sweet and simple. At LRA, our wonderful agents have the experience, energy and depth of knowledge to help you list your home for the best price.
Like LRA's Blog? Please Share!